Great News! Chefs Feeding Families collaborator, Silver Diner, opened the doors to their new Ashburn, Virginia location!
To kick off their opening, we're running an exclusive five-week sweepstakes series benefiting
Chefs Feeding Families.
Silver Diner Ashburn
Corner of Loudoun County Parkway and Russell Branch Parkway
ENTER TO WIN EXCLUSIVE PRIZE PACKAGES FROM OUR RESTAURANT PARTNERS AND SPONSORS
Select the Amount to Donate
$10 Donation = 10 Entries & Feeds a Family of Four for a Day
$50 Donation = 75 Entries & Feeds a Family of Four for a Week
$100 Donation = 200 Entries & Feeds a Family of Four for a month
Receive additional entries for sharing the Sweepstakes link on social media and for each donation you bring in. 
One winner will be randomly drawn three days after the entry period closes.
EACH WEEK WE WILL ADD A NEW PRIZE PACKAGE. The last day to enter each of the prize packages is August 8, 2021, at midnight. 
week 5's featured prize
THE SILVER DINER EXPERIENCE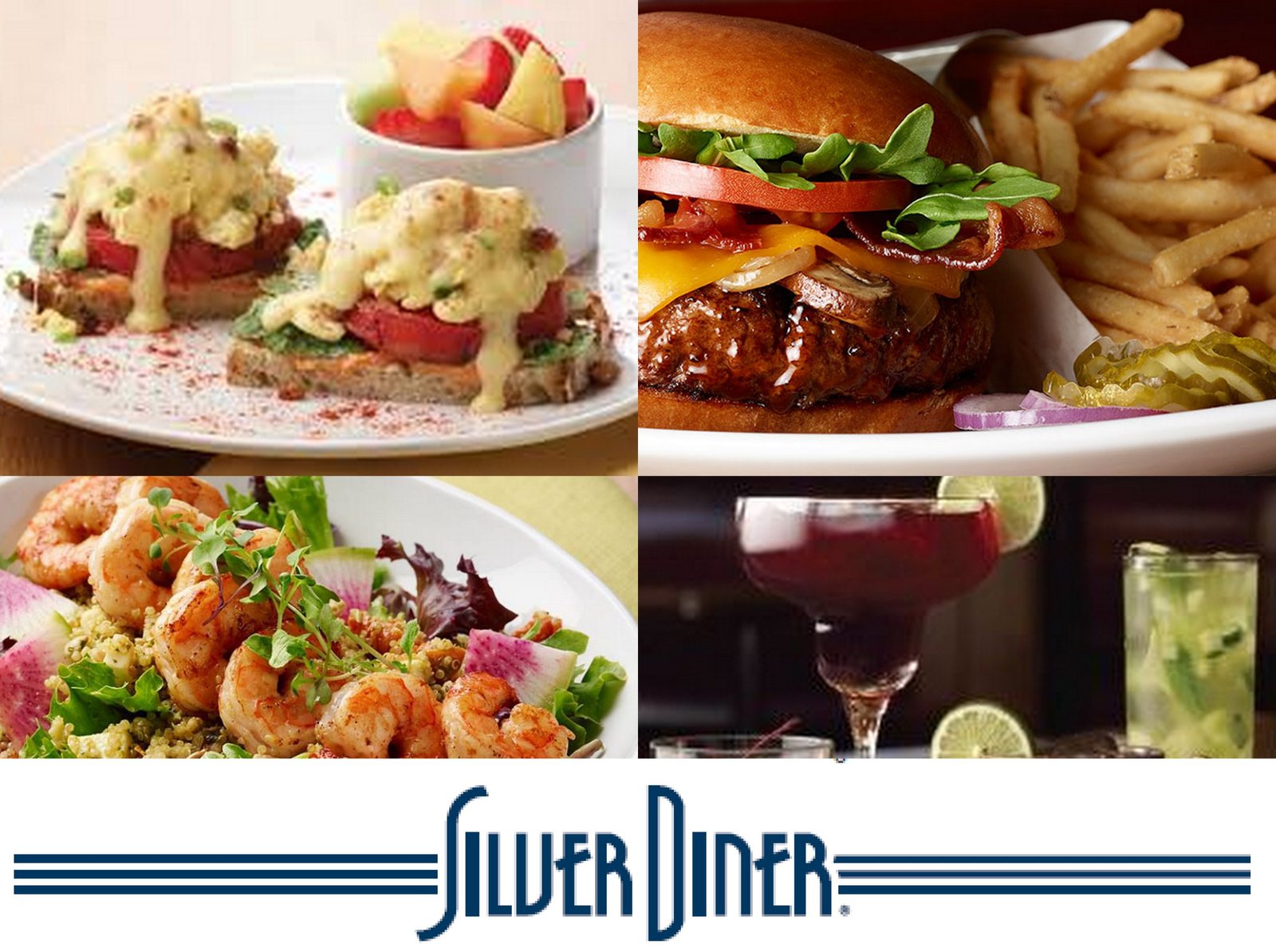 ENTER TO WIN SILVER DINER FOR A YEAR
In celebration of our newest location in Ashburn, Silver Diner is partnering with Real Food For Kids' Chefs Feeding Families to give back to our local community.
Donate a minimum $10 for a chance to win Silver Diner for a year (gift card value $1,040). All proceeds raised go to support school children and families in need. The more you donate the more chances to win.
SOMETHING FOR EVERYONE
Silver Diner has Something for Everyone updated for today's lifestyle. Whether you're vegetarian, vegan/plant-based, gluten-free, or a traditional diner lover, there's plenty to choose from. And with Chef Ype's Flexitarian™ menu featuring healthier, customizable options, you can eat as healthy or hearty as you'd like.
FRESH & LOCAL INGREDIENTS
Silver Diner's menu features the highest quality products from more than 15 local farms. Chef Ype then creates dishes that make the most of what's in season in our area.
WHAT YOU WANT, HOW YOU WANT IT
With 16 locations in the DMV, there is a Silver Diner near you. Choose from dine-in, carhop pickup, or delivery from SilverDiner.com.Enter today, and often! The deadline to enter is August 8, 2021, at 11:59 p.m. EST. 
APPROXIMATE RETAIL VALUE: $1,040
---
week 4's featured prize
THE PRIVATE CHEF AND WINE GUIDED EVENING EXPERIENCE
Spend a truly unforgettable evening with great food, wine, and friends in the comfort of your own home.
Donate a minimum of $10 for a chance to win this unique experience. The more you donate, the more chances you have to win!
The Private Chef and Wine-Guided Evening includes:
A 6-to-8-course meal for up to 8 people prepared by award-winning Moon Rabbit  chef Kevin Tien 

A wine tasting led by Siema Wine's Nick Materese
The meal!
Enjoy an intimate dinner prepared exclusively for you and your guests by Chef Tien. It will reflect his life experience–a finely tuned combination of Japanese, Vietnamese, and Latin American influences.
The wines!
Enjoy an assortment of Siema Wines' favorites from small, family-owned wineries and vineyards from across the globe as sommelier Nick Materese leads you and your guests through a tasting of 5 to 8 wines. Selections to be curated after discussion with the host. This is a separate event from the Private Chef Dinner, but it can be done in conjunction with it.
The rules!
Must be 21 years old to enter and participate.

Chef Tien will bring food, staff, and any special cooking equipment.  Host to provide china, silverware, table decorations, linens, glassware, use of kitchen, one shelf of refrigerator space. Foods to be coordinated for allergies and preferences with the host.

In-person guided wine tasting and private dinner are available only in the DC Metro area.

Residents outside the DC Metro area will have a virtual wine-tasting experience. 

Dinner offer is redeemable after January 1, 2022; date to be agreed upon between chef and host. Both offers expire on December 31, 2022.
Enter today, and often! The deadline to enter is August 8, 2021, at 11:59 p.m. EST. 
APPROXIMATE RETAIL VALUE: $3,500
---
About Chef Kevin Tien
Chef Kevin Tien's most recent restaurant venture, Moon Rabbit, named for the virtuous rabbit in the Buddhist Jataka tale, is a modern Vietnamese restaurant located in the heart of The Wharf in Washington D.C. An innovative approach to Vietnamese cuisine best describes acclaimed Chef Kevin Tien's unique and complex menu, intended to be a love letter to his heritage as a first-generation Asian-American. It evokes memory, honors history, references globally-inspired techniques and spotlights reinterpreted takes on regional Vietnamese dishes. In addition to Moon Rabbit, Chef Tien is the owner of local-favorite, Hot Lola's, a spicy chicken emporium in Arlington.
Since the opening of his very first restaurant, Chef Kevin Tien has garnered national attention and accolades from all corners of the United States.   Tien has been recognized by Food & Wine magazine as one of 10 "Best New Chefs;" Washingtonian magazine as one of the "Ten Young Chefs Shaping Washington's Dining Future;" EATER as a "Young Guns" semifinalist and the James Beard Foundation—both as a "Rising Star Chef of the Year" and "Best Chefs in America" semifinalist as recently as 2019.  Tien was also named Washingtonian Magazine's and Washington Business Journal's 40 under 40. Kevin was the first civilian recipient of the 2019 Award for Leadership and Innovation by the U.S. Department of State's AAFAA Asian American Foreign Affairs Association.  In 2019, one of Kevin's recipes was included in Grammy-Award-winning Questlove's cookbook, "Mixtape Potluck". Chef Tien also competed against other contestants in the fierce season 2 of Iron Chef Gauntlet and on the premiere of "Chopped: Next Gen".
Kevin's resume includes working for chefs Aaron Silverman (Little Pearl, Pineapple and Pearl, Rose's Luxury / only worked at Pineapple and Pearl), David Chang (Momofuku CCDC), Jose Andres (Oyamel), and Tyson Cole (Uchi). Not only extremely talented, but Chef Tien also has a long-standing history of giving back to the community. Kevin also recently co-founded Chefs Stopping AAPI Hate, an initiative to fight racism and raise money for AAPI communities.
About Wine Host, Nick Materese
Nick Materese began his journey into the world of food and wine twenty plus years ago. He grew up in food-rich New York indulging in pizza, local foods & Finger lakes wines before moving out to Arizona to spread his culinary and drinking wings. He has managed several restaurants & wine bars as well as helped build numerous highly-acclaimed wine shops & wine lists from the ground up. The dark side finally seduced him though and as much as he loved wine, he followed his liver's desire and joined Team Arrogance at Stone Brewing Co. The travel bug & the opportunity to teach about food, wine, beer & spirits eventually brought him back to the east coast. Today he works for one of metro DC's premiere boutique importer's (Siema wines) and he is also currently pursuing several side projects involving the quest for the perfect pint, eating copious amounts of good food & of course sharing stories about exceptional wine & fantastic spirits.
week 3's featured prize
THE CHOCOLATE + WINE EXPERIENCE
Indulge yourself and delight your senses.  
Donate now to help neighbors in need facing food insecurity and enter to win an exclusive chocolate and wine lover's dream experience.
This Chocolate + Wine Experience includes:
The Conche's 'Art of Chocolate Making' class for two
The Conche's 16-piece Artisan Chocolate Bonbons and Truffles Box
Chocolate Covered Bacon
Salted Caramels
$250 Schneider's wine shop gift card
The "Art of Chocolate Making" class is taught by The Conche's Master Chocolatier Sara Dobson and Pastry Chef Kathleen Faliskie, right in The Conche's exclusive chocolate lab designed by Santosh Tiptur, The Conche's chef and owner. Your ticket includes an introduction to the history and origin of chocolates, how to differentiate between good and bad chocolate, chocolate tastings, and a visit to the chocolate lab to roll your own truffles and bonbons!
prize #2
THE PERFECT SUMMER PICNIC EXPERIENCE
Summer is here! We've got everything covered for a fantastic outdoor experience that will step up your picnic game.
The Perfect Summer Picnic Experience includes:
City Bonfires S'mores Kit that will make any day feel a little s'more special:

1 City Bonfire
1 S'mores Kit (ingredients for 4 S'mores)
8 Graham Crackers
4 Marshmallows
1 Chocolate Bar
2 Portable Reusable Skewers
1 EZ Lighter

$100 Cheesetique gift card
2 Summer Wine Picnic Packs from Siema Wines. Enjoy an assortment of some of Siema Wines' favorite summertime sippers! The assortment of reds, whites, rosè, and bubbles represent the heart of Siema Wines' business philosophy; "Small family-owned wineries and vineyards from across the globe".
WaPo "Picnic Time" Picnic Basket, provided by The Washington Post food critic Tom Sietsema:

Two 8″ porcelain plates
Two wine glasses
Two sets of stainless steel forks, knives, and spoons
Stainless steel waiter-style corkscrew
Two linen napkins
prize #1
THE RDV WINE EXPERIENCE
Enjoy an unforgettable afternoon with friends!
The RdV Wine Experience includes:
A Classic Tour and Tasting Experience for 4 guests at RdV Vineyards (2550 Delaplane Grade Rd, Delaplane, VA 20144)
This 90-minute Classic Experience for 4 guests begins with an exclusive tour of the vineyard, production areas, and cave.  Once seated at your table, the tasting flight includes a glass of prestige cuvee champagne, and a taste of both RdV's flagship wine Lost Mountain and our Rendezvous, as well as a charcuterie presentation.
RdV Vineyards is nestled in the foothills of the Blue Ridge Mountains 60 miles outside of Washington DC. Our hillside vineyards & winery, above the historic town of Delaplane, offer the perfect blend of southern-exposed slopes and rocky soil to establish the ideal 'terroir' to fulfill our desire to reconnect with the land, create a wine with soul, and provide a destination for wine enthusiasts from all over the world to gather together and share their passion for food and wine.
The best way to fully experience this unique property is through hosted tours throughout the winemaking facilities culminating in a seated tasting of our current release wines with carefully matched food pairings by local Virginian artisans. Tours are by appointment only.
2550 Delaplane Grade Rd
Delaplane, VA 20144
EACH WEEK A NEW PRIZE PACKAGE WILL BE ANNOUNCED.
Stay connected and check Real Food for Kids' Facebook page for the weekly prize package announcement on Mondays at 10 a.m.
Real Food for Kids: Chefs Feeding Families is a joint project with Washington, D.C. metro-area restaurants including Silver Diner, Bayou Bakery, American Son, RASA, Pizzeria Paradiso, MightyMeals, Design Cuisine, B. Lin Catering and Good Food Company to provide nourishing, plant-forward meals and meal kits to school children and their families impacted by school shutdowns and job losses due to the COVID-19 pandemic. Co-founded in March 2020 by Chef David Guas of Bayou Bakery in Arlington, Va. and Real Food for Kids, Chefs Feeding Families provides funding for food, supplies, and restaurant staff to feed as many families as possible and create employment opportunities within the restaurant community also impacted by COVID-19 closures.  Free meals are now being served across the DC metro area. Together we have provided over 160,000 meals to children and families in need.