Our students are changing school lunch menus.
And this is the only event where you can see how they do it!
Since 2012, the Real Food for Kids Culinary Challenge has provided students the unique experience of mirroring the responsibilities of school nutrition professionals by creating delicious, healthy school meals that represent the diverse culinary traditions in our school communities. All while staying within the defined nutrition parameters and cost thresholds of the federally funded National School Meal Program.
It is the only professional culinary competition open to both middle and high school students, and the only competition where students have an opportunity to see their recipe adapted and served on school lunch lines around the Greater Metropolitan Region.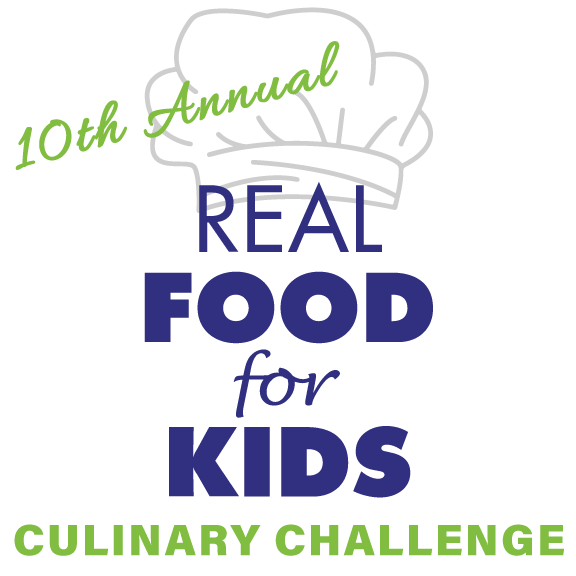 The "challenge" at the heart of this competition is the same one faced by school food professionals every day: to craft healthy and delicious menu items that meet USDA guidelines and adhere to strict per-meal budgets.
THIS YEAR (2021 – 2022 School Year)
The culinary theme of this year's competition is Buy Local Eat Local, asking students to source 50% or more of their ingredients locally or regionally.
While COVID-19 required us to detour from the traditional structure of the Culinary Challenge in 2020 and 2021, the goals have remained constant:  to engage and support students in Family and Consumer Sciences and Culinary Arts electives, foster their ambition to create innovative, nutritious dishes that influence school meal programs, and provide a project-based learning platform for teachers.
Following two years of virtual competition, the Culinary Challenge returns to a live event, open to the public.
The 10th Annual Real Food for Kids Culinary Challenge was held on March 5, 2022, at Hayfield Secondary School, 7630 Telegraph Rd, Alexandria, VA 22315.
This year's Culinary Challenge team lineup includes:
Blue Ridge Middle School (Loudoun County, VA)
Chantilly Academy (Fairfax County, VA)
Franklin Middle School (Fairfax County, VA)
Herndon High School (Fairfax County, VA)
Kenmore Middle School (Arlington County, VA), and
Takoma Park Middle School (Montgomery County, MD).
2022 CULINARY CHALLENGE EXHIBITORS
Bold Fork Books

George Mason University School of Nutrition and Food Studies

Junction Bakery & Bistro

Silver Diner

Culinary Challenge Sponsor

VegFund

Culinary Challenge Sponsor
Informational
Get your photo taken with
REAL FOOD FOR KIDS'
MR. BROCCOLI