Our students are changing school lunch menus.
And this is the only event where you can see how they do it!
Every day, school food professionals face an array of requirements to create school meals that meet strict nutritional guidelines while restrictive per-meal budgets. The Real Food for Kids Culinary Challenge gives students the chance to face these challenges and tell us what they'd like to see in their school cafeterias. Their success is changing what's being served in our schools.
Since 2012, the Real Food for Kids Culinary Challenge has put students in the shoes of school nutrition professionals, tasked to create delicious, healthy school meals that represent the diverse culinary traditions in our school communities.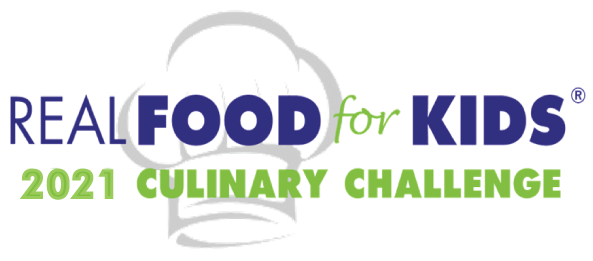 The "challenge" at the heart of this competition is the same one faced by school food professionals every day: to craft healthy and delicious menu items that meet USDA guidelines and adhere to strict per-meal budgets.
The COVID-19 pandemic has adjusted teaching methods in our schools and forced us all to reimagine how we can deliver quality content to our learners. While this year's Culinary Challenge detours from its traditional structure, the goals are the same: to engage and support students in their ambition to create innovative, nutritious dishes that influence school meal programs, and to complement instructors' academic objectives.
Given persisting COVID restrictions, the 2021 Culinary Challenge has adapted to meet distance learning environments while engaging students and complementing academic objectives.
The culinary theme for the 2021 Culinary Challenge is Grab and GO.  This year's competition is in the lunch category only and guidelines are simplified to make recipes easier to prepare at home. Students are requested to be prepared to share how their meal fuels them for a physical activity in which they like to participate.
This year, students will compete as individuals, not in teams, and up to two students from the same school may participate. Instructors may use the competition guidelines as a class or extra-credit project with up to two students being selected by their peers to represent the school in the final competition. Students will submit recipes along with a short video presentation of their dish. Recipes and videos will be judged by a set of our Sponsors, our Chefs Feeding Families collaborators, and Food and Nutrition Professionals.
A BIG congratulations to all the students who participated.  Here are your 2021 Culinary Challenge winners:
WINNER – Dahlia Badt – Takoma Park Middle School, MCPS – Vegetable Tofu Bowl
Second Place – Forrest Gonia – Chantilly Academy/Woodson HS, FCPS – Chicken Black Bean Taco
Third Place – Meghan Clark – Edison Academy, FCPS – Turkey Quinoa Bowl
Chef Choice Awards
Will Ramsey – Yorktown HS, APS – Black Bean Quinoa Bowl
Jacob Friend – Yorktown HS, APS – Black Bean Bowl with Cantalope